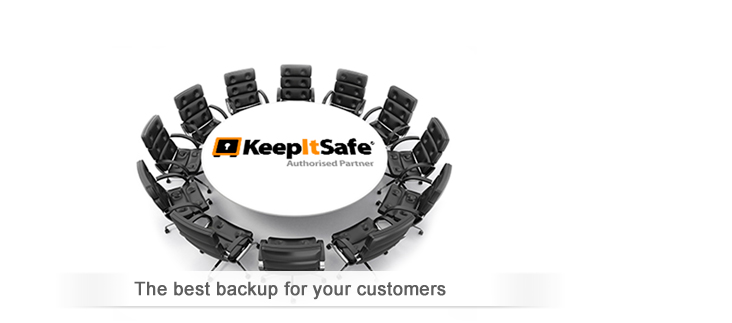 Offer your clients a carefree backup too
Become a Backup-Connect partner
Hundreds of ICT service providers around the world collaborate with Backup-Connect. Not surprising, since the Backup-Connect partner programme has but a single goal: making it as simple as possible for you as ICT provider to offer your clients the very best backup available. To this end, we follow the unique Gray Label concept. This means that your company name and logo are displayed next to the Backup-Connect logo.
A summary of the advantages
No risk. Backup-Connect assumes responsibility for all financial, operational and legal risks.
No entry threshold. No start-up fees or minimum purchase required. This means the Backup-Connect partner programme is profitable from the very first sale.
Attractive rewards. You receive an attractive, annually recurring commission for every subscription sold. You can do the invoicing yourself, or have Backup-Connect invoice the client directly.
Own partner portal. This portal enables you to offer the best possible customer support. It provides you, for example, with an instant overview of the status of all the backup activities of every one of your clients over the past seven days.
Technical support. The professional Backup-Connect support team is at your service for any technical questions you may have. Naturally, the support team is always available by phone or e-mail. And if you want, a member of the support staff can talk you through the client log-on process.
Marketing and sales support. We apply all our marketing expertise to help you promote your online backup service and generate leads. An exceptionally extensive promotional package, which also displays your logo prominently, lets you inform your current clients and attract new ones.
Click here and register as a Backup-Connect partner today!
About Backup-Connect
Backup-Connect is an independent Dutch provider of complete online backup services. The emphasis is on security and reliability. Backup-Connect offers powerful software - the Backup-Connect Manager - and uses its own equipment that is securely stationed in the Amsterdam Internet Exchange. Backup-Connect manages the entire backup chain personally and the connection's security is verified by McAfee Secure on a daily basis. The company's terms are laid out in clear Service Level Agreements. Backup-Connect is active in 16 countries, with sales offices in five, and collaborates with an extensive network of resellers and partners.