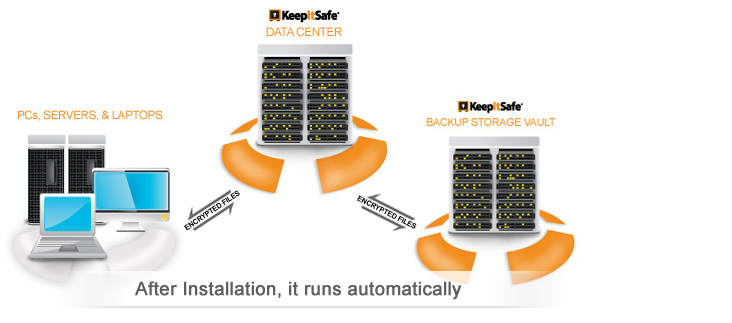 How does the online backup work
Backup monitoring with the Backup-Connect Manager
You can manage your backups with the Backup-Connect Manager, which is quick and simple to install on your PC. Create your own password and encryption code… and you're ready to roll!
Automatic and secure
The Backup-Connect Manager lets you choose which data you would like to back up and when, and for how long it needs to be saved. Less important files, for example, can be stored for a period of 30 days and others for 90 days. The copy of your current data will, of course, never be deleted! And you decide when the backup should start. The data is encrypted and compressed before being transferred over the internet to Backup-Connect's, where your files are stored in a secure environment.
Smart technology
Backup-Connect offers you the best in cutting-edge technology. For instance, once you've completed your initial backup, the software will only search for files that have been added or changed. This speeds up the entire backup process. Regular checks are performed at the data centre to ensure that your data is still being saved the way it should be. And, thanks to the intelligent software, it only takes a few simple mouse clicks to also configure it to create backups of your Exchange and SQL database and perform other, more complex tasks.
Keep fully informed
After every completed backup, you'll receive an e-mail report containing detailed information about the files that have just been backed up. We'll also let you know of any errors and send you an alert if a scheduled backup had been skipped.
Quick and simple data recovery
If something does go wrong and you need to restore your data, you can do this in a quick and simple manner via the Backup-Connect Manager or our website. You'll have the option of retrieving the latest backup or an older version. And if you are restoring a lot of data in one go, Backup-Connect will be happy to provide you with the data on a hard disk.
Optional: data on a hard disk
Backup-Connect can supply the data on hard disk upon request, for instance if you quickly need a large amount of data restored. For this you will be charged a modest one-off fee.