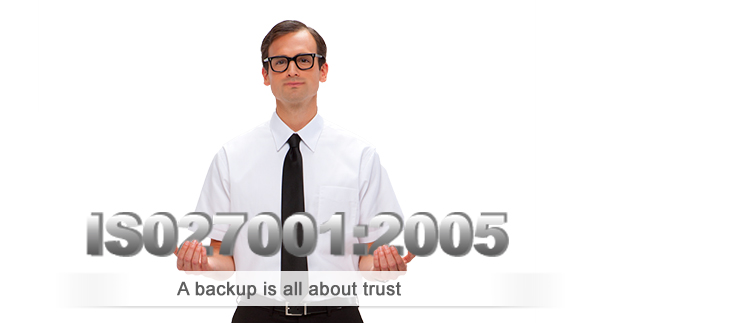 Securing your backup
Written guarantees
Because Backup-Connect does everything in-house, we are able to offer you the maximum guarantees when it comes to safety and quality. These guarantees are contained in a clear Service Level Agreement that you will receive from us.
Data encryption
Your files are encrypted with a Triple DES algorithm and compressed before being sent and saved, so they can't be read by anybody else. Not even by Backup-Connect! You compile your own encryption code, and both the registering procedure and data transfer take place across a secure 128-bit SSL connection. So there's no danger of third parties hacking into your data.
Certified security
Backup-Connect does everything in its power to safeguard your data. Internally, and through certification from independent external parties.
McAfee Secure. The Backup-Connect site is tested for vulnerabilities by McAfee Secure. More than 300 tests are performed every day to check that your data is still secure. If Backup-Connect fails to meet the requirements for 72 hours, McAfee Secure will instantly revoke the certification.
Payment Card Industry Data Security Standard (PCI). This certification guarantees that Backup-Connect is protected against outside attacks and that the internal security processes comply with the guidelines of parties such as Visa, MasterCard and American Express.